Florida is one of the most popular tourist destinations in the United States. It's also a great place to visit with kids, especially since it offers plenty of theme parks, beaches, and other attractions to keep young ones busy. Here are some of our favorite destinations for families in Florida:
Everglades National Park
Everglades National Park is one of the most popular parks in Florida. It's home to an abundance of wildlife, including alligators, bobcats, and bears. Kids will enjoy spotting wildlife and learning about the diverse ecosystem at the visitor center. there are many different activities to do while visiting this park. The Everglades are located in southern Florida, where the weather is warmer than in other parts of the state.
Activities include
Every Kid Outdoors for 4th graders
Junior Ranger Books
Visit the park
Junior Ranger Sounds Explorer
Junior Ranger Railroad Explorer
Junior Rangers In Space
Junior Ranger SpaceTech Explorer
You can also find your park online with interactive and printable activities or Junior Ranger Books. View special places within parks from your living room. Watch wildlife, geysers, and other activity in real-time. Discover your favorite subjects or search for your favorite places.
Jungle Island
While this attraction is definitely geared towards tourists, it's a great way to learn about some of Florida's native animals while getting up close and personal with them. You can enjoy a VIP tour or an encounter with the animals of your choice.
Animal encounters are with
CAPYBARAS
GIANT TORTOISE
KANGAROOS
LEMURS
SLOTHS
FLAMINGOS
Kennedy Space Center Visitor Complex
The Visitor Complex is a great place for older kids to learn about the space program. The best part is the launch simulator, where you can learn what it feels like to ride into space on a rocket and See where astronauts train before they travel into outer space! You'll even get to experience some of the same forces that astronauts feel during liftoff! You can also see real rockets and spacecraft at the visitor center, or view them on large screens in one of their theaters.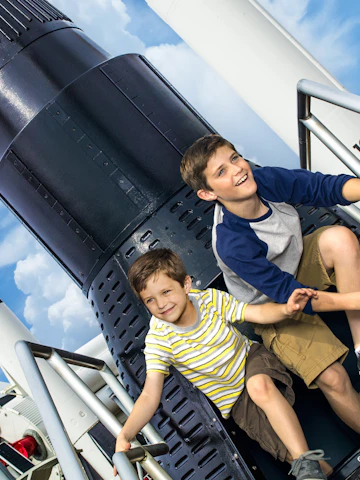 Head out to the Kennedy Space Center to experience where history was and continues to be made.
Explore outer space – where the future of space exploration launches takes place.
Delve into the wonders of space: touch a piece of moon rock and feel like you're lifting off into space on the Shuttle Launch Experience!
I hope you have enjoyed this list of the best places to visit in Florida with kids! Let us know if you have any questions, or if we missed any favorites of your own.